Computational Model Library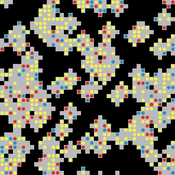 This model explores different aspects of the formation of urban neighbourhoods where residents believe in values distant from those dominant in society. Or, at least, this is what the Danish government beliefs when they discuss their politics about parallel societies. This simulation is set to understand (a) whether these alternative values areas form and what determines their formation, (b) if they are linked to low or no income residents, and (c) what happens if they disappear from the map. All these three points are part of the Danish government policy. This agent-based model is set to understand the boundaries and effects of this policy.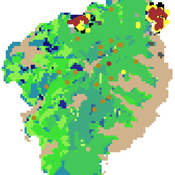 FNNR-ABM is an agent-based model that simulates human activity, Guizhou snub-nosed monkey movement, and GTGP-enrolled land parcel conversion in the Fanjingshan National Nature Reserve in Guizhou, China.
Quick-start guide:
1. Install Python and set environmental path variables.
2. Install the mesa, matplotlib (optional), and pyshp (optional) Python libraries.
3. Configure fnnr_config_file.py.
…
The provided source code is the result of our efforts in replicating Epstein's Demographic Prisoner's Dilemma. The simulation model is written in Repast/J 3.1.
Tony Lawson
| Published Tue Feb 28 11:41:14 2012 | Last modified Sat Apr 27 20:18:51 2013
Demographic microsimulation model used in speed tests against LIAM 2.
Dave Murray-Rust
| Published Mon Jul 20 15:55:11 2009 | Last modified Sat Apr 27 20:18:51 2013
This website uses cookies and Google Analytics to help us track user engagement and improve our site. If you'd like to know more information about what data we collect and why, please see
our data privacy policy
. If you continue to use this site, you consent to our use of cookies.