Computational Model Library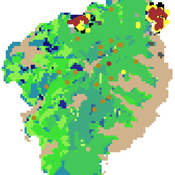 FNNR-ABM is an agent-based model that simulates human activity, Guizhou snub-nosed monkey movement, and GTGP-enrolled land parcel conversion in the Fanjingshan National Nature Reserve in Guizhou, China.
Quick-start guide:
1. Install Python and set environmental path variables.
2. Install the mesa, matplotlib (optional), and pyshp (optional) Python libraries.
3. Configure fnnr_config_file.py.
…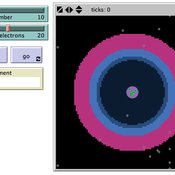 Due to teacher requests to represent changes in atomic radius, we developed a visualization of the first 36 elements in Netlogo
Luis Macedo
| Published Mon Nov 7 11:59:03 2011 | Last modified Sat Apr 27 20:18:48 2013
A system that receives from an agent-based social simulation the agent's emotional data, their emotional-related data such as motivations and beliefs, as well as their location, and visualizes of all this information in a two dimensional map of the geographic region the agents inhabit as well as on graphs along the time dimension.
This website uses cookies and Google Analytics to help us track user engagement and improve our site. If you'd like to know more information about what data we collect and why, please see
our data privacy policy
. If you continue to use this site, you consent to our use of cookies.