Computational Model Library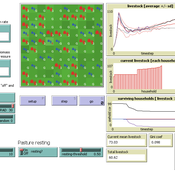 RAGE models a stylized common property grazing system. Agents follow a certain behavioral type. The model allows analyzing how household behavior with respect to a social norm on pasture resting affects long-term social-ecological system dynamics.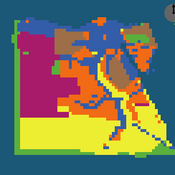 The model investigates conditions, scenarios and strategies for future planning of energy in Egypt, with an emphasis on alternative energy pathways and a sustainable electricity supply mix as part of an energy roadmap till the year 2100. It combines the multi-criteria decision analysis (MCDA) with agent-based modeling (ABM) and Geographic Information Systems (GIS) visualization to integrate the interactions of the decisions of multi-agents, the multi-criteria evaluation of sustainability, the time factor and the site factors to assess the transformation of energy landscapes.
The model analyzes the economic and ecological effects of a provision of livestock drought insurance for dryland pastoralists. More precisely, it yields qualitative insights into how long-term herd and pasture dynamics change through insurance.
We used our model to test how different combinations of dominance interactions present in H. saltator could result in linear, despotic, or shared hierarchies.
This website uses cookies and Google Analytics to help us track user engagement and improve our site. If you'd like to know more information about what data we collect and why, please see
our data privacy policy
. If you continue to use this site, you consent to our use of cookies.