Computational Model Library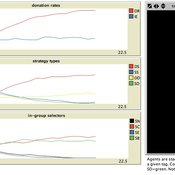 Captures interplay between fixed ethnic markers and culturally evolved tags in the evolution of cooperation and ethnocentrism. Agents evolve cultural tags, behavioural game strategies and in-group definitions. Ethnic markers are fixed.
The provided source code is the result of our efforts in replicating Epstein's Demographic Prisoner's Dilemma. The simulation model is written in Repast/J 3.1.
Max Hartshorn
| Published Sat Mar 24 21:34:18 2012 | Last modified Sat Apr 27 20:18:21 2013
This is an implementation of an agent based model for the evolution of ethnocentrism. While based off a model published by Hammond and Axelrod (2006), the code has been modified to allow for a more fine-grained analysis of evolutionary dynamics.
Bo Xianyu
| Published Wed Nov 16 11:34:40 2011 | Last modified Sat Apr 27 20:18:43 2013
This model studies the effect of the agents' adaptive expectation on cooperation frequency in the prisoner's dilemma game in complex networks from an agent based approach. The model is implemented in Repast simphony 1.2.
Marco Janssen
| Published Fri Oct 15 20:05:27 2010 | Last modified Wed Nov 13 23:46:20 2013
The model is used to study the conditions under which agents will cooperate in one-shot two-player Prisoner's Dilemma games if they are able to withdraw from playing the game and can learn to recogniz
This website uses cookies and Google Analytics to help us track user engagement and improve our site. If you'd like to know more information about what data we collect and why, please see
our data privacy policy
. If you continue to use this site, you consent to our use of cookies.