Computational Model Library
About the CoMSES Model Library more info
---
CoMSES Net maintains cyberinfrastructure to foster FAIR data principles for access to and (re)use of computational models. Model authors can publish their model code in the Computational Model Library with documentation, metadata, and data dependencies and support these FAIR data principles as well as best practices for software citation. Model authors can also request that their model code be peer reviewed to receive a DOI. All users of models published in the library must cite model authors when they use and benefit from their code.
Please check out our model archive tutorial or contact us if you have any questions or concerns about archiving your model.
CoMSES Net also maintains a curated database of over 7500 publications of agent-based and individual based models with additional metadata on availability of code and bibliometric information on the landscape of ABM/IBM publications that we welcome you to explore.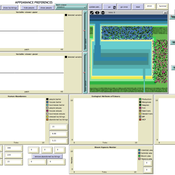 This model simulates the form and function of an idealised estuary with associated barrier-spit complex on the north east coast of New Zealand's North Island (from Bream Bay to central Bay of Plenty) during the years 2010 - 2050 CE. It combines variables from social, ecological and geomorphic systems to simulate potential directions of change in shallow coastal systems in response to external forcing from land use, climate, pollution, population density, demographics, values and beliefs. The estuary is over 1000Ha, making it a large estuary according to Hume et al. (2007) - there are 12 large estuaries in the Auckland region alone (Suyadi et al., 2019). The model was developed as part of Andrew Allison's PhD Thesis in Geography from the School of Environment and Institute of Marine Science, University of Auckland, New Zealand. The model setup allows for alteration of geomorphic, ecological and social variables to suit the specific conditions found in various estuaries along the north east coast of New Zealand's North Island.
This model is not a predictive or forecasting model. It is designed to investigate potential directions of change in complex shallow coastal systems. This model must not be used for any purpose other than as a heuristic to facilitate researcher and stakeholder learning and for developing system understanding (as per Allison et al., 2018).
This website uses cookies and Google Analytics to help us track user engagement and improve our site. If you'd like to know more information about what data we collect and why, please see
our data privacy policy
. If you continue to use this site, you consent to our use of cookies.