Computational Model Library
Organisms, Individuals and Organizations face the dilemma of exploration vs. exploitation
Identifying the optimal trade-off between the two is a challenge
Too much exploration (e.g. gaining new knowledge) can be detrimental to day-to-day survival and too much exploitation (applying existing knowledge) could be detrimental to long term survival esp. if conditions change over time
The purpose of the model is to investigate how the amount of resources acquired (wealth/success) is related to persistence with the strategy of local exploration under different resource distributions, availability of resources over time and cost of relocation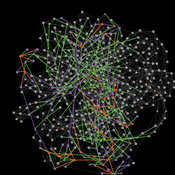 Studies on word-of-mouth identify two behaviors leading to transmission of information between individuals: proactive transmission of information, and information seeking. Individuals who are aware might be curious of it and start seeking for information; they might find around them the expertise held by another individual. Field studies indicate individuals do not adopt an innovation if they don't hold the corresponding expertise. This model describes this information seeking behavior, and enables the exploration of the dynamics which emerges out of it.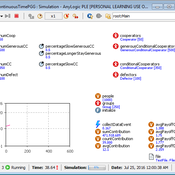 Tuong Vu
| Published Thu May 17 10:39:29 2018 | Last modified Tue Apr 2 09:28:13 2019
To our knowledge, this is the first agent-based simulation of continuous-time PGGs (where participants can change contributions at any time) which are much harder to realise within both laboratory and simulation environments.
Work related to this simulation has been published in the following journal article:
Vu, Tuong Manh, Wagner, Christian and Siebers, Peer-Olaf (2019) 'ABOOMS: Overcoming the Hurdles of Continuous-Time Public Goods Games with a Simulation-Based Approach' Journal of Artificial Societies and Social Simulation 22 (2) 7 http://jasss.soc.surrey.ac.uk/22/2/7.html. doi: 10.18564/jasss.3995
Abstract:
…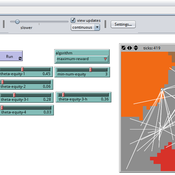 Model for evaluating various ambulance dispatching policies of an equity constrained emergency medical services under bounded rationality.
This is an agent-based model of peer review built on the following three entities: papers, scientists and conferences. The model has been implemented on a BDI platform (Jason) that allows to perform both parameter and mechanism exploration.
This website uses cookies and Google Analytics to help us track user engagement and improve our site. If you'd like to know more information about what data we collect and why, please see
our data privacy policy
. If you continue to use this site, you consent to our use of cookies.