Computational Model Library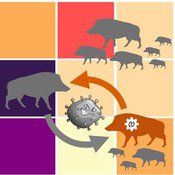 The model is a combination of a spatially explicit, stochastic, agent-based model for wild boars (Sus scrofa L.) and an epidemiological model for the Classical Swine Fever (CSF) virus infecting the wild boars.
The original model (Kramer-Schadt et al. 2009) was used to assess intrinsic (system immanent host-pathogen interaction and host life-history) and extrinsic (spatial extent and density) factors contributing to the long-term persistence of the disease and has further been used to assess the effects of intrinsic dynamics (Lange et al. 2012a) and indirect transmission (Lange et al. 2016) on the disease course. In an applied context, the model was used to test the efficiency of spatiotemporal vaccination regimes (Lange et al. 2012b) as well as the risk of disease spread in the country of Denmark (Alban et al. 2005).
References: See ODD model description.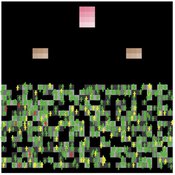 We demonstrate how a simple model of community associated Methicillin-resistant Staphylococcus aureus (CA-MRSA) can be easily constructed by leveraging the statecharts and ReLogo capabilities in Repast Simphony.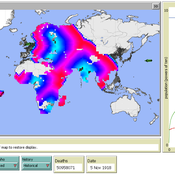 Ken Kahn
| Published Mon Aug 5 15:17:09 2013 | Last modified Mon Aug 5 15:21:25 2013
A global model of the 1918-19 Influenza Pandemic. It can be run to match history or explore counterfactual questions about the influence of World War I on the dynamics of the epidemic. Explores two theories of the location of the initial infection.
This website uses cookies and Google Analytics to help us track user engagement and improve our site. If you'd like to know more information about what data we collect and why, please see
our data privacy policy
. If you continue to use this site, you consent to our use of cookies.