Computational Model Library
This is a simplified version of a Complex Model of Voter Turnout by Edmonds et al.(2014). It was developed to better understand the mechanisms at play on that complex model.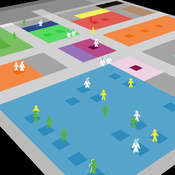 The functioning of an hospital ED. The use case concerns an hospital in Italy which is moving in a new building. Simulations interest both new and old department, to investigate changes by exploring KPIs.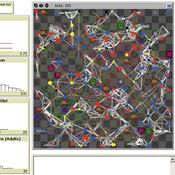 This is a complex "Data Integration Model", following a "KIDS" rather than a "KISS" methodology - guided by the available evidence. It looks at the complex mix of social processes that may determine why people vote or not.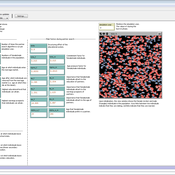 This model explores a social mechanism that links the reversal of the gender gap in education with changing patterns in relative divorce risks in 12 European countries.
Marco Janssen
| Published Thu Dec 2 23:00:56 2010 | Last modified Sat Apr 27 20:18:53 2013
This model describes the consequences of limited vision of agents in harvesting a common resource. We show the vulnerability of cooperation due to reduced visibility of the resource and other agents.
chitwanabm is a spatially explicit agent-based model of population and land use in the Chitwan Valley, Nepal, designed to explore feedbacks between population and environment, with a heavy focus on community context and individual-level variation.
We expose RA agent-based model of the opinion and tolerance dynamics in artificial societies. The formal mathematical model is based on the ideas of Social Influence, Social Judgment, and Social Identity theories.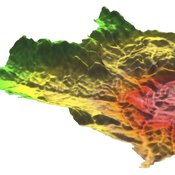 The MML is a hybrid modeling environment that couples an agent-based model of small-holder agropastoral households and a cellular landscape evolution model that simulates changes in erosion/deposition, soils, and vegetation.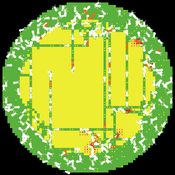 This is a NetLogo version of Buhl et al.'s (2005) model of self-organised digging activity in ant colonies. It was built for a master's course on self-organisation and its intended use is still educational. The ants' behavior can easily be changed by toggling switches on the interface, or, for more advanced students, there is R code included allowing the model to be run and analysed through RNetLogo.
A very simple model elaborated to explore what may happens when buyers (travelers) have more information than sellers (tourist destinations)
This website uses cookies and Google Analytics to help us track user engagement and improve our site. If you'd like to know more information about what data we collect and why, please see
our data privacy policy
. If you continue to use this site, you consent to our use of cookies.