Computational Model Library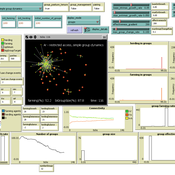 Andreas Angourakis
| Published Fri Feb 5 17:23:29 2016 | Last modified Fri Nov 17 10:20:29 2017
The Nice Musical Chairs (NMC) model represent the competition for space between groups of stakeholders of farming and herding activities in the arid Afro-Eurasia.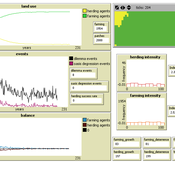 Andreas Angourakis
| Published Wed Feb 3 17:24:15 2016 | Last modified Fri Mar 11 19:17:46 2016
This Agent-Based model intends to explore the conditions for the emergence and change of land use patterns in Central Asian oases and similar contexts.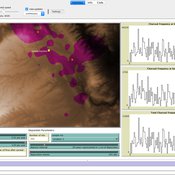 Grant Snitker
| Published Mon Nov 16 14:48:43 2015 | Last modified Sun Apr 22 00:21:16 2018
This model (CharRec) creates simulated charcoal records, based on differing natural and anthropogenic patterns of ignitions, charcoal dispersion, and deposition.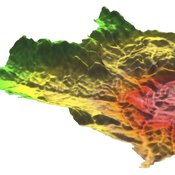 The MML is a hybrid modeling environment that couples an agent-based model of small-holder agropastoral households and a cellular landscape evolution model that simulates changes in erosion/deposition, soils, and vegetation.
The Pampas Model is an Agent-Based Model intended to explore the dynamics of structural and land use changes in agricultural systems of the Argentine Pampas in response to climatic, technological economic, and political drivers.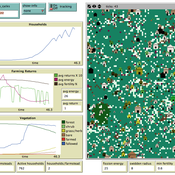 C Michael Barton
| Published Wed Jun 12 23:54:35 2013 | Last modified Wed Sep 3 23:37:34 2014
Model of shifting cultivation. All parameters can be controlled by the user or the model can be run in adaptive mode, in which agents innovate and select parameters.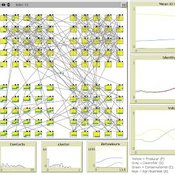 James Millington
| Published Tue Sep 18 16:16:25 2012 | Last modified Sat Apr 27 20:18:32 2013
To investigate the potential of using Social Psychology Theory in ABMs of natural resource use and show proof of concept, we present an exemplary agent-based modelling framework that explicitly represents multiple and hierarchical agent self-concepts
Simon Briner
| Published Tue Jan 31 08:19:13 2012 | Last modified Sat Apr 27 20:18:21 2013
A model for simulating farmers and foresters response on changing climate and changing socio-economic parameters. Modeled are changes in land-use as well as in ecosystem services provision.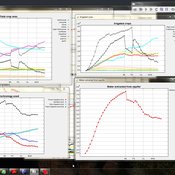 Georg Holtz
| Published Thu Jun 30 14:25:25 2011 | Last modified Sat Apr 27 20:18:17 2013
An agent-based model to investigate the history of irrigated agriculture in the Upper Guadiana Basin, Spain, in order to learn about the influence of farmers' characteristics (inter alia profit orientation, risk aversion, skills, available labour force and farm size) on land-use change and associated groundwater over-use in this region.
C Michael Barton
| Published Sun Apr 27 16:49:11 2008 | Last modified Sat Apr 27 20:18:48 2013
Swidden Farming is designed to explore the dynamics of agricultural land management strategies.
This website uses cookies and Google Analytics to help us track user engagement and improve our site. If you'd like to know more information about what data we collect and why, please see
our data privacy policy
. If you continue to use this site, you consent to our use of cookies.