No bio entered.
Research Interests
I have a particular interest in the way in which social network structure influences dynamic processes operating over the netowrk, such as adoption of behaviour or spread of disease. More generally, I am interested in using complex systems methods to understand social phenomena.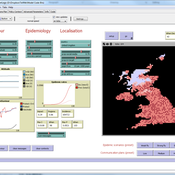 Models the connection between health agency communication, personal protective behaviour (eg vaccination, hand hygiene) and influenza transmission.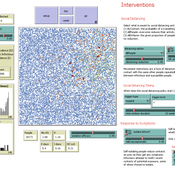 Jennifer Badham
| Published Thu Jun 18 15:05:58 2020 | Last modified Mon Mar 29 13:30:02 2021
NetLogo model that allows scenarios concerning general social distancing, shielding of high-risk individuals, and informing contacts when symptomatic. Documentation includes a user manual with some simple scenarios, and technical information including descriptions of key procedures and parameter values.
Zombies move toward humans and humans move (faster) away from zombies. They fight if they meet, and humans who lose become zombies.