Computational Model Library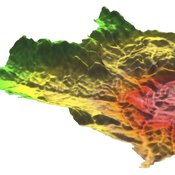 The MML is a hybrid modeling environment that couples an agent-based model of small-holder agropastoral households and a cellular landscape evolution model that simulates changes in erosion/deposition, soils, and vegetation.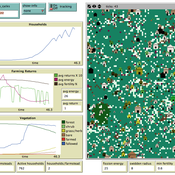 C Michael Barton
| Published Wed Jun 12 23:54:35 2013 | Last modified Wed Sep 3 23:37:34 2014
Model of shifting cultivation. All parameters can be controlled by the user or the model can be run in adaptive mode, in which agents innovate and select parameters.
This model uses 'satisficing' as a model for farmers' decision making to learn about influences of alternative decision-making models on simulation results and to exemplify a way to transform a rather theoretical concept into a feasible decision-making model for agent-based farming models.
Simon Briner
| Published Tue Jan 31 08:19:13 2012 | Last modified Sat Apr 27 20:18:21 2013
A model for simulating farmers and foresters response on changing climate and changing socio-economic parameters. Modeled are changes in land-use as well as in ecosystem services provision.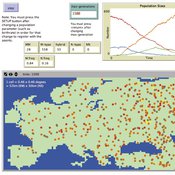 C Michael Barton
| Published Mon Sep 19 19:55:00 2011 | Last modified Fri Mar 28 05:17:32 2014
Simulates biobehavioral interactions between 2 populations of hominins.
This website uses cookies and Google Analytics to help us track user engagement and improve our site. If you'd like to know more information about what data we collect and why, please see
our data privacy policy
. If you continue to use this site, you consent to our use of cookies.