Computational Model Library
Yanbo Li
| Published Tue Dec 24 18:06:30 2019
This model was built to estimate the impacts of exogenous fodder input and credit loans services on livelihood, rangeland health and profits of pastoral production in a small holder pastoral household in the arid steppe rangeland of Inner Mongolia, China. The model simulated the long-term dynamic of herd size and structure, the forage demand and supply, the cash flow, and the situation of loan debt under three different stocking strategies: (1) No external fodder input, (2) fodders were only imported when natural disaster occurred, and (3) frequent import of external fodder, with different amount of available credit loans. Monte-Carlo method was used to address the influence of climate variability.
The model analyzes the economic and ecological effects of a provision of livestock drought insurance for dryland pastoralists. More precisely, it yields qualitative insights into how long-term herd and pasture dynamics change through insurance.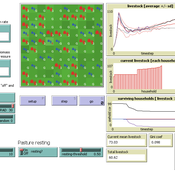 RAGE models a stylized common property grazing system. Agents follow a certain behavioral type. The model allows analyzing how household behavior with respect to a social norm on pasture resting affects long-term social-ecological system dynamics.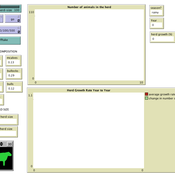 The model examines the dynamics of herd growth in African pastoral systems. We used it to examine the role of scale (herd size) stochasticity (in mortality, fertility, and offtake) on herd growth.
This website uses cookies and Google Analytics to help us track user engagement and improve our site. If you'd like to know more information about what data we collect and why, please see
our data privacy policy
. If you continue to use this site, you consent to our use of cookies.