Computational Model Library
About the CoMSES Model Library more info
---
Our mission is to help computational modelers at all levels engage in the establishment and adoption of community standards and good practices for developing and sharing computational models. Model authors can freely publish their model source code in the Computational Model Library alongside narrative documentation, open science metadata, and other emerging open science norms that facilitate software citation, reproducibility, interoperability, and reuse. Model authors can also request peer review of their computational models to receive a DOI.
All users of models published in the library must cite model authors when they use and benefit from their code.
Please check out our model publishing tutorial and contact us if you have any questions or concerns about publishing your model(s) in the Computational Model Library.
We also maintain a curated database of over 7500 publications of agent-based and individual based models with additional detailed metadata on availability of code and bibliometric information on the landscape of ABM/IBM publications that we welcome you to explore.
Displaying 2 of 2 results dryland clear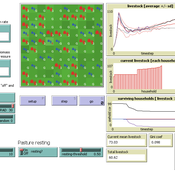 RAGE models a stylized common property grazing system. Agents follow a certain behavioral type. The model allows analyzing how household behavior with respect to a social norm on pasture resting affects long-term social-ecological system dynamics.
Yanbo Li
| Published Tuesday, December 24, 2019
This model was built to estimate the impacts of exogenous fodder input and credit loans services on livelihood, rangeland health and profits of pastoral production in a small holder pastoral household in the arid steppe rangeland of Inner Mongolia, China. The model simulated the long-term dynamic of herd size and structure, the forage demand and supply, the cash flow, and the situation of loan debt under three different stocking strategies: (1) No external fodder input, (2) fodders were only imported when natural disaster occurred, and (3) frequent import of external fodder, with different amount of available credit loans. Monte-Carlo method was used to address the influence of climate variability.
This website uses cookies and Google Analytics to help us track user engagement and improve our site. If you'd like to know more information about what data we collect and why, please see
our data privacy policy
. If you continue to use this site, you consent to our use of cookies.