Computational Model Library
Organisms, Individuals and Organizations face the dilemma of exploration vs. exploitation
Identifying the optimal trade-off between the two is a challenge
Too much exploration (e.g. gaining new knowledge) can be detrimental to day-to-day survival and too much exploitation (applying existing knowledge) could be detrimental to long term survival esp. if conditions change over time
The purpose of the model is to investigate how the amount of resources acquired (wealth/success) is related to persistence with the strategy of local exploration under different resource distributions, availability of resources over time and cost of relocation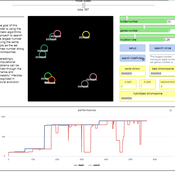 GeneGenetic algorithms try to solve a computational problem following some principles of organic evolution. This model has didactic purposes; it can give us an answer to the simple arithmetic problem on how to find the highest natural number composed by a given number of digits. We approach the task using a genetic algorithm, where the possible answers to solve the problem are represented by agents, that in logo programming environment are usually known as "turtles".
PowerGen-ABM is an optimisation model for power plant expansions from 2010 to 2025 with Indonesian electricity systems as the case study. PowerGen-ABM integrates three approaches: techno-economic analysis (TEA), linear programming (LP), and input-output analysis (IOA) and environmental analysis. TEA is based on the revenue requirement (RR) formula by UCDavis (2016), and the environmental analysis accounts for resource consumption (i.e., steel, concrete, aluminium, and energy) and carbon dioxide equivalent (CO2e) emissions during the construction and operational stages of power plants.
The code shared here accompanies the paper at https://doi.org/10.1371/journal.pone.0208451. It simulates the effects of various economic trade scenarios on the phenomenon of the 'disappearing middle' in the Scottish beef and dairy farming industries. The 'disappearing middle' is a situation in which there is a simultaneous observed decline in medium-sized enterprises and rise in the number of small and large-scale enterprises.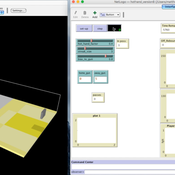 An agent-based simulation of a game of basketball. The model implements most components of a standard game of basketball. Additionally, the model allows the user to test for the effect of two separate cognitive biases – the hot-hand effect and a belief in the team's franchise player.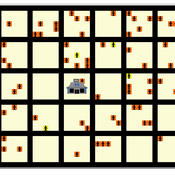 Development of a Multiagent System for the Analysis of Gentrification in Latin America, an Agent-Based Model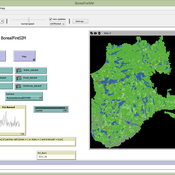 BorealFireSIM is a cellular automaton based model that serves to identify future fire patterns in the boreal forest of Quebec, Canada. The model simulates yearly fire seasons and adjusts decadal climate variables based on two future carbon pathways (RCP45 (low emissions) and RCP85 (business as usual)). The BorealFireSIM model simulates future fire patterns up to the year 2100.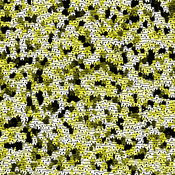 A simulated approach for Personal Carbon Trading, for figuring out what effects it might have if it will be implemented in the real world. We use an artificial population with some empirical data from international literature and basic assumptions about heterogeneous energy demand. The model is not to be used as simulating the actual behavior of real populations, but a toy model to test the effects of differences in various factors such as number of agents, energy price, price of allowances, etc. It is important to adapt the model for specific countries as carbon footprint and energy demand determines the relative success of PCT.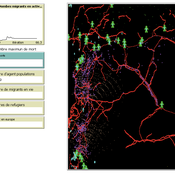 RefugeePathSIM is an agent-based model to simulate the movement behavior of refugees in order to identify pathways of forced migration under crisis. The model generates migrants and lets them leave conflict areas for a destination that they choose based on their characteristics and desires. RefugeePathSIM has been developed and applied in a study of the Syrian war, using monthly data in years 2011-2015.
This is a model of root disease spread between trees in the landscape. The disease spreads via two transmission processes: (a) root contact/root graft transmission between adjacent trees and (b) insect vectors that carry spores between trees. Full details can be found in the "Info" tab in the model and in the readme file in the GitHub repository.
This website uses cookies and Google Analytics to help us track user engagement and improve our site. If you'd like to know more information about what data we collect and why, please see
our data privacy policy
. If you continue to use this site, you consent to our use of cookies.