Computational Model Library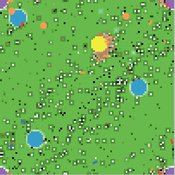 Kit Martin
| Published Thu Jan 15 16:19:41 2015 | Last modified Thu Aug 27 18:53:06 2015
Simulates impacts of ants killing colony mates when in conflict with another nest. The murder rate is adjustable, and the environmental change is variable. The colonies employ social learning so knowledge diffusion proceeds if interactions occur.
This simulation model is to simulate the emergence of technological innovation processes from the hypercycles perspective.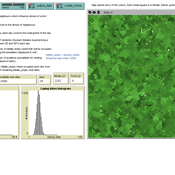 James Millington
| Published Tue Jun 26 14:20:05 2012 | Last modified Sat Apr 27 20:18:19 2013
This generic individual-based model of a bird colony shows how the influence neighbour's stress levels synchronize the laying date of neighbours and also of large colonies. The model has been used to demonstrate how this form of simulation model can be recognised as being 'event-driven', retaining a history in the patterns produced via simulated events and interactions.
D Poza
| Published Thu Sep 24 09:40:17 2009 | Last modified Sat Apr 27 20:18:43 2013
The Classes Model with one agent type
This website uses cookies and Google Analytics to help us track user engagement and improve our site. If you'd like to know more information about what data we collect and why, please see
our data privacy policy
. If you continue to use this site, you consent to our use of cookies.