Computational Model Library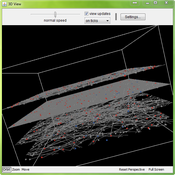 Davide Nunes
| Published Thu Aug 2 21:15:49 2012 | Last modified Sat Apr 27 20:18:39 2013
In the context switching model, a society of agents embedded in multiple social relations, engages in a simple abstract game: the consensus game. Each agent has to choose towards one of two possible choices which are basically arbitrary. The objective of the game is to reach a global consensus, but the particular choice that gets collectively selected is irrelevant.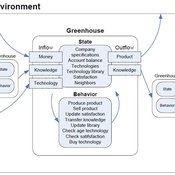 Julia Kasmire
| Published Wed May 9 13:40:57 2012 | Last modified Sat Apr 27 20:18:51 2013
An ABM, derived from a case study and a series of surveys with greenhouse growers in the Westland, Netherlands. Experiments using this model showshow that the greenhouse horticulture industry displays diversity, adaptive complexity and an uneven distribution, which all suggest that the industry is an evolving system.
Tony Lawson
| Published Mon Feb 27 18:32:15 2012 | Last modified Tue Oct 21 09:50:14 2014
A dynmaic microsimulation model to project the UK population over time
David Dixon
| Published Fri Oct 7 22:58:33 2011 | Last modified Sat Apr 27 20:18:32 2013
A friendship game is a kind of network game: a game theory model on a network. This is a NetLogo model of an agent-based adaptation of "'Friendship-based' Games" by PJ Lamberson. The agents reach an equilibrium that depends on the strategy played and the topology of the network.
Tony Lawson
| Published Thu Oct 6 13:52:24 2011 | Last modified Sat Apr 27 20:18:34 2013
How do households alter their spending patterns when they experience changes in income? This model answers this question using a random assignment scheme where spending patterns are copied from a household in the new income bracket.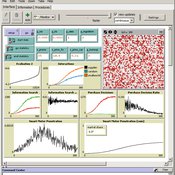 Martin Rixin
| Published Thu Aug 18 10:29:34 2011 | Last modified Sat Apr 27 20:18:17 2013
An Agent-based model simulates consumer demand for Smart Metering tariffs. It utilizes the Bass Diffusion Model and Rogers´s adopter categories. Integration of empirical census microdata enables a validated socio-economic background for each consumer.
Jae-Woo Kim
| Published Fri May 13 03:00:08 2011 | Last modified Sat Apr 27 20:18:17 2013
We present an agent-based model of worker protest informed by Epstein (2002). Workers have varying degrees of grievance depending on the difference between their wage and the average of their neighbors. They protest with probabilities proportional to grievance, but are inhibited by the risk of being arrested – which is determined by the ratio of coercive agents to probable rebels in the local area. We explore the effect of similarity perception on the dynamics of collective behavior. If […]
Diego Valbuena
| Published Sat Mar 12 12:58:20 2011 | Last modified Sat Apr 27 20:18:23 2013
This is an empirical model described in http://dx.doi.org/10.1016/j.landurbplan.2010.05.001. The objective of the model is to simulate how the decision-making of farmers/agents with different strategies can affect the landscape structure in a region in the Netherlands.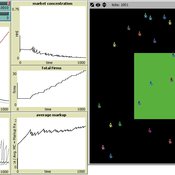 Timothy Kochanski
| Published Mon Feb 14 17:04:04 2011 | Last modified Sat Apr 27 20:18:51 2013
This is the model for a paper that is based on a simulation model, programmed in Netlogo, that demonstrates changes in market structure that occur as marginal costs, demand, and barriers to entry change. Students predict and observe market structure changes in terms of number of firms, market concentration, market price and quantity, and average marginal costs, profits, and markups across the market as firms innovate. By adjusting the demand growth and barriers to entry, students can […]
This website uses cookies and Google Analytics to help us track user engagement and improve our site. If you'd like to know more information about what data we collect and why, please see
our data privacy policy
. If you continue to use this site, you consent to our use of cookies.