Computational Model Library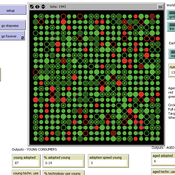 The simulation model SimPLS shows an application of the PLS agent concept, using SEM as empirical basis for the definition of agent architectures. The simulation model implements the PLS path model TAM about the decision of using innovative products.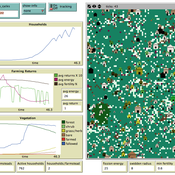 C Michael Barton
| Published Wed Jun 12 23:54:35 2013 | Last modified Wed Sep 3 23:37:34 2014
Model of shifting cultivation. All parameters can be controlled by the user or the model can be run in adaptive mode, in which agents innovate and select parameters.
This is a model of innovation implementation inside an organization. It characterizes an innovation as a set of distributed and technically interdependent tasks performed by a number of different and socially interconnected frontline workers.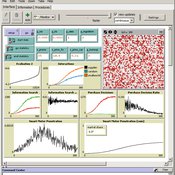 Martin Rixin
| Published Thu Aug 18 10:29:34 2011 | Last modified Sat Apr 27 20:18:17 2013
An Agent-based model simulates consumer demand for Smart Metering tariffs. It utilizes the Bass Diffusion Model and Rogers´s adopter categories. Integration of empirical census microdata enables a validated socio-economic background for each consumer.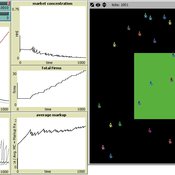 Timothy Kochanski
| Published Mon Feb 14 17:04:04 2011 | Last modified Sat Apr 27 20:18:51 2013
This is the model for a paper that is based on a simulation model, programmed in Netlogo, that demonstrates changes in market structure that occur as marginal costs, demand, and barriers to entry change. Students predict and observe market structure changes in terms of number of firms, market concentration, market price and quantity, and average marginal costs, profits, and markups across the market as firms innovate. By adjusting the demand growth and barriers to entry, students can […]
rolanmd
| Published Mon Aug 9 18:08:37 2010 | Last modified Sat Apr 27 20:18:39 2013
In this presentation, we use the concept of meme to explore evolution of demand.
Nigel Gilbert
| Published Wed Mar 3 12:10:48 2010 | Last modified Sat Apr 27 20:18:48 2013
This website uses cookies and Google Analytics to help us track user engagement and improve our site. If you'd like to know more information about what data we collect and why, please see
our data privacy policy
. If you continue to use this site, you consent to our use of cookies.