Computational Model Library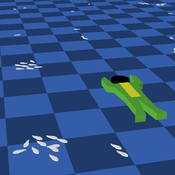 Miguel Pais
| Published Tue Dec 6 17:39:57 2016 | Last modified Thu Feb 9 11:45:23 2017
The FishCensus model simulates underwater visual census methods, where a diver estimates the abundance of fish. A separate model is used to shape species behaviours and save them to a file that can be shared and used by the counting model.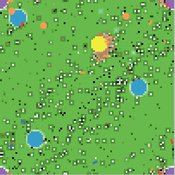 Kit Martin
| Published Thu Jan 15 16:19:41 2015 | Last modified Thu Aug 27 18:53:06 2015
Simulates impacts of ants killing colony mates when in conflict with another nest. The murder rate is adjustable, and the environmental change is variable. The colonies employ social learning so knowledge diffusion proceeds if interactions occur.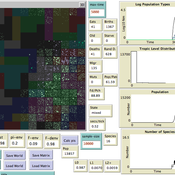 Bruce Edmonds
| Published Sun May 4 13:22:47 2014 | Last modified Wed May 15 14:18:58 2019
This is a multi-patch meta-population ecological model. It intended as a test-bed in which to test the impact of humans with different kinds of social structure.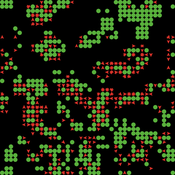 Purpose of the model is to perform a "virtual experiment" to test the predator satiation hypothesis, advanced in literature to explain the mast seeding phenomenon.
Francois Rebaudo
| Published Wed Aug 29 12:57:32 2012 | Last modified Mon Oct 13 08:58:37 2014
SimAdapt: An individual-based genetic model for simulating landscape management impacts on populations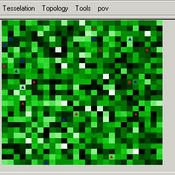 Pierre Bommel
| Published Tue Apr 5 15:09:08 2011 | Last modified Sat Apr 27 20:18:45 2013
The model, presented here, is a re-implementation of the Pepper and Smuts' model : - Pepper, J.W. and B.B. Smuts. 2000. "The evolution of cooperation in an ecological context: an agent-based model". Pp. 45-76 in T.A. Kohler and G.J. Gumerman, eds. Dynamics of human and primate societies: agent-based modeling of social and spatial processes. Oxford University Press, Oxford. - Pepper, J.W. and B.B. Smuts. 2002. "Assortment through Environmental Feedback". American Naturalist, 160: 205-213 […]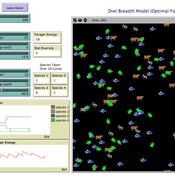 C Michael Barton
| Published Wed Nov 26 23:19:21 2008 | Last modified Thu Mar 12 20:04:31 2015
Diet breadth is a classic optimal foraging theory (OFT) model from human behavioral ecology (HBE). Different resources, ranked according to their food value and processing costs, are distributed in th
C Michael Barton
| Published Sat Nov 22 19:11:16 2008 | Last modified Sat Apr 27 20:18:43 2013
NetLogo model of patch choice model from optimal foraging theory (human behavioral ecology).
This website uses cookies and Google Analytics to help us track user engagement and improve our site. If you'd like to know more information about what data we collect and why, please see
our data privacy policy
. If you continue to use this site, you consent to our use of cookies.