I have only just started becoming active in research/agent based modeling.
Research Interests
I find agent based computational economics interesting. I would also be interested in combining agent based modeling to explore cultural anthropology, government policies, socioeconomic stratification, and the diffusion of information.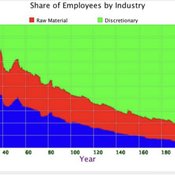 Ian Stuart
| Published Sat May 8 15:22:16 2021 | Last modified Wed Jun 23 14:33:37 2021
This model/program presents a "three industry model" that may be particularly useful for macroeconomic simulations. The main purpose of this program is to demonstrate a mechanism in which the relative share of labor shifts between industries.
Care has been taken so that it is written in a self-documenting way so that it may be useful to anyone that might build from it or use it as an example.
This model is not intended to match a specific economy (and is not calibrated to do so) but its particular minimalist implementation may be useful for future research/development.
…