I have only just started becoming active in research/agent based modeling.
Research Interests
I find agent based computational economics interesting. I would also be interested in combining agent based modeling to explore cultural anthropology, government policies, socioeconomic stratification, and the diffusion of information.
A Minimalist Macroeconomic Model Of A Closed Economy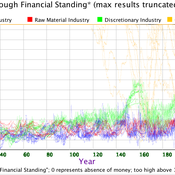 This program was developed with the hope of contributing an article to http://jasss.soc.surrey.ac.uk/JASSS.html. If that article is published it would be a good resource for understanding this model.
This program has not been developed to the level of a user application nor has it been developed to be robust enough to be adaptable to a wide variety of applications but care has been taken so that it is written in a self-documenting way so that it may be useful to anyone that might build from it or use it as an example.
This model is not intended to match a specific economy (and is not calibrated to do so) but its particular minimalist implementation may be useful for future research/development.
…