Computational Model Library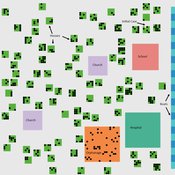 The St Anthony flu model is an epidemiological model designed to test hypotheses related to the spread of the 1918 influenza pandemic among residents of a small fishing community in Newfoundland and Labrador. The 1921 census data from Newfoundland and Labrador are used to ensure a realistic model population; the community of St. Anthony, NL, located on the tip of the Northern Peninsula of the island of Newfoundland is the specific population modeled. Model agents are placed on a map-like grid that consists of houses, two churches, a school, an orphanage, a hospital, and several boats. They engage in daily activities that reflect known ethnographic patterns of behavior in St. Anthony and other similar communities. A pathogen is introduced into the community and then it spreads throughout the population as a consequence of individual agent movements and interactions.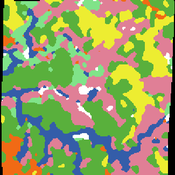 The original Ache model is used to explore different distributions of resources on the landscape and it's effect on optimal strategies of the camps on hunting and camp movement.
Andrea Tovinen
| Published Tue Dec 16 17:34:45 2008 | Last modified Sat Apr 27 20:18:45 2013
The purpose of the model is to examine the strength of network connections in a ceremonial exchange network in a non-hierarchical society.
Rhian Stotts
| Published Tue Dec 16 06:51:22 2008 | Last modified Sat Apr 27 20:18:19 2013
This model is a simulation of the ceremonial exchange network in Papua New Guinea called the Kula Ring. In the Kula Ring, there are two types of gifts that travel in opposite directions: armshells co
This website uses cookies and Google Analytics to help us track user engagement and improve our site. If you'd like to know more information about what data we collect and why, please see
our data privacy policy
. If you continue to use this site, you consent to our use of cookies.