Computational Model Library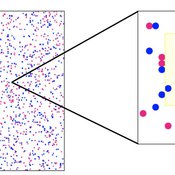 A general model of human mate choice in which agents are localized in space, interact with close neighbors, and tend to range either near or far. At the individual level, our model uses two oft-used but incompletely understood decision rules: one based on preferences for similar partners, the other for maximally attractive partners.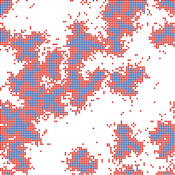 A spatial prisoner's dilemma model with mobile agents, de-coupled birth-death events, and harsh environments.
The (cultural) evolution of cooperative breeding in harsh environments.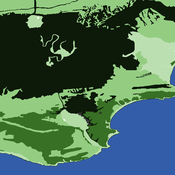 This model simulates a foraging system based on Middle Stone Age plant and shellfish foraging in South Africa.
Cultural group selection model of agents playing public good games and who are able to punish and punish back.
LUXE is a land-use change model featuring different levels of land market implementation. It integrates utility measures, budget constraints, competitive bidding, and market interactions to model land-use change in exurban environment.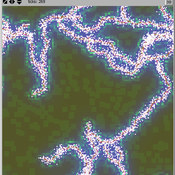 We seek to improve understanding of roles enzyme play in soil food webs. We created an agent-based simulation of a simple food web that includes enzymatic activity. The model was used in a publication, Moore et al. (in press; Biochemistry).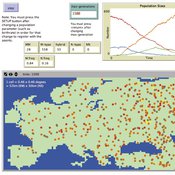 C Michael Barton
| Published Mon Sep 19 19:55:00 2011 | Last modified Fri Mar 28 05:17:32 2014
Simulates biobehavioral interactions between 2 populations of hominins.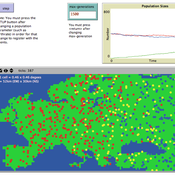 C Michael Barton
| Published Sat Oct 1 00:20:15 2011 | Last modified Fri Mar 28 05:07:40 2014
Biobehavioral interactions between two populations under different movement strategies.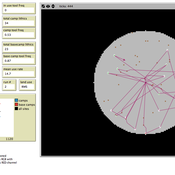 This model represents technological and ecological behaviors of mobile hunter-gatherers, in a variable environment, as they produce, use, and discard chipped stone artifacts. The results can be analyzed and compared with archaeological sites.
This website uses cookies and Google Analytics to help us track user engagement and improve our site. If you'd like to know more information about what data we collect and why, please see
our data privacy policy
. If you continue to use this site, you consent to our use of cookies.