Computational Model Library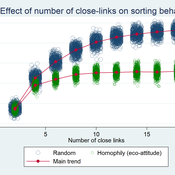 The model answers the question how homophily and number of close-links in small-world network influences behavior of consumats. The results show that the more close-links the more probable the consumat follows the major behavior, but homophilly blocks the major behavior and supports survival of the minor behavior.
The model includes different formulations how agents make decisions in irrigation games and this is compared with empirical data. The aim is to test different theoretical models, especially explaining effect of communication.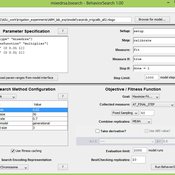 Comparing 7 alternative models of human behavior and assess their performance on a high resolution dataset based on individual behavior performance in laboratory experiments.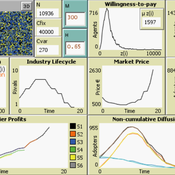 Martin Rixin
| Published Wed Oct 19 13:42:28 2011 | Last modified Sat Apr 27 20:18:17 2013
Several taxonomies for empirical validation have been published. Our model integrates different methods to calibrate an innovation diffusion model, ranging from simple randomized input validation to complex calibration with the use of microdata.
This website uses cookies and Google Analytics to help us track user engagement and improve our site. If you'd like to know more information about what data we collect and why, please see
our data privacy policy
. If you continue to use this site, you consent to our use of cookies.