Computational Model Library
Spatial explicit model of a rangeland system, based on Australian conditions, where grass, woody shrubs and fire compete fore resources. Overgrazing can cause the system to flip from a healthy state to an unproductive shrub state. With the model one can explore the consequences of different movement rules of the livestock on the resilience of the system.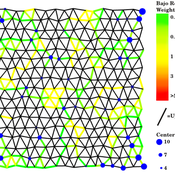 Alex Kara
| Published Tue Dec 4 23:33:28 2018 | Last modified Thu Sep 26 20:45:13 2019
This thesis presents an abstract spatial simulation model of the Maya Central Lowlands coupled human and natural system from 1000 BCE to the present day. It's name is the Climatically Heightened but Anothropogenically Achieved Historical Kerplunk model (CHAAHK). The simulation features features virtual human groups, population centers, transit routes, local resources, and imported resources. Despite its embryonic state, the model demonstrates how certain anthropogenic characteristics of a landscape can interact with externally induced trauma and result in a prolonged period of relative sociopolitical uncomplexity. Analysis of batch simulation output suggests decreasing empirical uncertainties about ancient wetland modification warrants more investment. This first submission of CHAAHK's code represents the simulation's implementation that was featured in the author's master's thesis.
Julia Schindler
| Published Sat Aug 18 11:06:30 2012 | Last modified Sat Apr 27 20:18:21 2013
This is an empirically calibrated agent-based model that replicates spruce-budworm outbreaks, one of the most cited adaptive cycles reported. The adaptive-cycle metaphor by L. H. Gunderson and C. S. Holling posits the cross-case existence of repeating cycles of growth, conservation, collapse, and renewal in many complex systems, triggered by loss of resilience. This model is one of the first agent-based models of such cycles, with the novelty that adaptive cycles are not defined by system- […]
Wendy Cegielski
| Published Mon Dec 13 20:27:01 2010 | Last modified Sat Apr 27 20:18:25 2013
Original model of chiefdom modeled in terms of a hierarchical, scale-free network
This website uses cookies and Google Analytics to help us track user engagement and improve our site. If you'd like to know more information about what data we collect and why, please see
our data privacy policy
. If you continue to use this site, you consent to our use of cookies.