No bio entered.
Research Interests
I'm a PhD student in the department of Industrial and Operations Engineering at the University of Michigan.
I am interested in issues related to risk and vulnerability in the developing world, particularly in the face of an uncertain future. In my dissertation I plan to use agent-based simulation to explore issues of food security, livelihood, and well-being of smallholder farmers in Ethiopia under different future scenarios.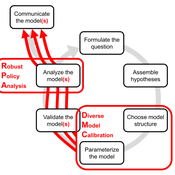 This repository contains: (1) a model calibration procedure that identifies a set of diverse, plausible models; and (2) an ABM of smallholder agriculture, which is used as a case study application for the calibration method. By identifying a set of diverse models, the calibration method attends to the issue of "equifinality" prevalent in complex systems, which is a situation where multiple plausible process descriptions exist for a single outcome.