2021-present: Postdoctoral Researcher, Environmental Geography Department, Vrije Universiteit Amsterdam
2016-2021: PhD candidate, Department of Industrial and Operations Engineering, University of Michigan
Research Interests
agriculture & food systems | resilience & transformation & equity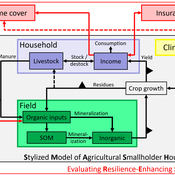 The SMASH model is an agent-based model of rural smallholder households. It models households' evolving income and wealth, which they earn through crop sales. Wealth is carried in the form of livestock, which are grazed on an external rangeland (exogenous) and can be bought/sold as investment/coping mechanisms. The model includes a stylized representation of soil nutrient dynamics, modeling the inflows and outflows of organic and inorganic nitrogen from each household's field.
The model has been applied to assess the resilience-enhancing effects of two different farm-level adaptation strategies: legume cover cropping and crop insurance. These two strategies interact with the model through different mechanims - legume cover cropping through ecological mechanisms and crop insurance through financial mechanisms. The model can be used to investigate the short- and long-term effects of these strategies, as well as how they may differently benefit different types of household.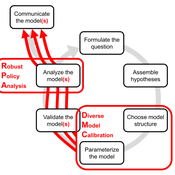 This repository contains: (1) a model calibration procedure that identifies a set of diverse, plausible models; and (2) an ABM of smallholder agriculture, which is used as a case study application for the calibration method. By identifying a set of diverse models, the calibration method attends to the issue of "equifinality" prevalent in complex systems, which is a situation where multiple plausible process descriptions exist for a single outcome.
Large-scale land acquisitions (LSLAs) threaten smallholder livelihoods globally. Despite more than a decade of research on the LSLA phenomenon, it remains a challenge to identify governance conditions that may foster beneficial outcomes for both smallholders and investors. One potentially promising strategy toward this end is contract farming (CF), which more directly involves smallholder households in commodity production than conditions of acquisition and displacement.
To improve understanding of how CF may mediate the outcomes of LSLAs, we developed an agent-based model of smallholder livelihoods, which we used as a virtual laboratory to experiment on a range of hypothetical LSLA and CF implementation scenarios.
The model represents a community of smallholder households in a mixed crop-livestock system. Each agent farms their own land and manages a herd of livestock. Agents can also engage in off-farm employment, for which they earn a fixed wage and compete for a limited number of jobs. The principal model outputs include measures of household food security (representing access to a single, staple food crop) and agricultural production (of a single, staple food crop).
…