Computational Model Library
About the CoMSES Model Library more info
---
Our mission is to help computational modelers at all levels engage in the establishment and adoption of community standards and good practices for developing and sharing computational models. Model authors can freely publish their model source code in the Computational Model Library alongside narrative documentation, open science metadata, and other emerging open science norms that facilitate software citation, reproducibility, interoperability, and reuse. Model authors can also request peer review of their computational models to receive a DOI.
All users of models published in the library must cite model authors when they use and benefit from their code.
Please check out our model publishing tutorial and contact us if you have any questions or concerns about publishing your model(s) in the Computational Model Library.
We also maintain a curated database of over 7500 publications of agent-based and individual based models with additional detailed metadata on availability of code and bibliometric information on the landscape of ABM/IBM publications that we welcome you to explore.
Displaying 2 of 2 results model calibration clear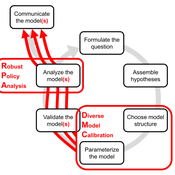 This repository contains: (1) a model calibration procedure that identifies a set of diverse, plausible models; and (2) an ABM of smallholder agriculture, which is used as a case study application for the calibration method. By identifying a set of diverse models, the calibration method attends to the issue of "equifinality" prevalent in complex systems, which is a situation where multiple plausible process descriptions exist for a single outcome.
B Furtado
| Published Wednesday, March 07, 2018
This is an initial exploratory exercise done for the class @ http://thiagomarzagao.com/teaching/ipea/ Text available here: https://arxiv.org/abs/1712.04429v1
The program:
Reads output from an ABM model and its parameters' configuration
Creates a socioeconomic optimal output based on two ABM results of the modelers choice
Organizes the data as X and Y matrices
Trains some Machine Learning algorithms
…
This website uses cookies and Google Analytics to help us track user engagement and improve our site. If you'd like to know more information about what data we collect and why, please see
our data privacy policy
. If you continue to use this site, you consent to our use of cookies.