Computational Model Library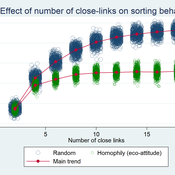 The model answers the question how homophily and number of close-links in small-world network influences behavior of consumats. The results show that the more close-links the more probable the consumat follows the major behavior, but homophilly blocks the major behavior and supports survival of the minor behavior.
Lakeland 2 is a simple version of the original Lakeland of Jager et al. (2000) Ecological Economics 35(3): 357-380. The model can be used to explore the consequences of different behavioral assumptions on resource and social dynamics.
This website uses cookies and Google Analytics to help us track user engagement and improve our site. If you'd like to know more information about what data we collect and why, please see
our data privacy policy
. If you continue to use this site, you consent to our use of cookies.