Computational Model Library
Sara Mehryar
| Published Mon Mar 4 22:46:35 2019 | Last modified Wed Aug 28 14:59:20 2019
This model simulates different farmers' decisions and actions to adapt to the water scarce situation. This simulation helps to investigate how farmers' strategies may impact macro-behavior of the social-ecological system i.e. overall groundwater use change and emigration of farmers. The environmental variables' behavior and behavioral rules of stakeholders are captured with Fuzzy Cognitive Map (FCM) that is developed with both qualitative and quantitative data, i.e. stakeholders' knowledge and empirical data from studies. This model have been used to compare the impact of different water scarcity policies on overall groundwater use in a farming community facing water scarcity.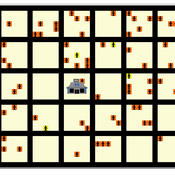 Development of a Multiagent System for the Analysis of Gentrification in Latin America, an Agent-Based Model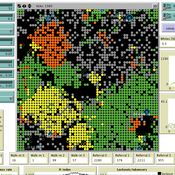 The Labour Markets and Ethnic Segmentation (LaMESt) Model is a model of a simplified labour market, where only jobs of the lowest skill level are considered. Immigrants of two different ethnicities ("Latino", "Asian") compete with a majority ("White") and minority ("Black") native population for these jobs. The model's purpose is to investigate the effect of ethnically homogeneous social networks on the emergence of ethnic segmentation in such a labour market. It is inspired by Waldinger & Lichter's study of immigration and the social organisation of labour in 1990's Los Angeles.
This website uses cookies and Google Analytics to help us track user engagement and improve our site. If you'd like to know more information about what data we collect and why, please see
our data privacy policy
. If you continue to use this site, you consent to our use of cookies.