Computational Model Library
Computational Model Library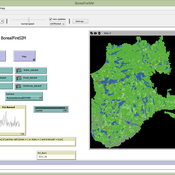 BorealFireSIM is a cellular automaton based model that serves to identify future fire patterns in the boreal forest of Quebec, Canada. The model simulates yearly fire seasons and adjusts decadal climate variables based on two future carbon pathways (RCP45 (low emissions) and RCP85 (business as usual)). The BorealFireSIM model simulates future fire patterns up to the year 2100.
The model explores how corruption may spread endogenously within a closed society by depicting the behavior within a cellular automaton context (CA) between bureaucrats and citizens. Within the model, corruption is characterized as a behavior product dependent upon an individual's personal disposition towards honesty, rational decisionmaking processes, and neighbors' behavior.
The model attempts to explore the trade-offs between immigration policies and successfully identifying human trafficking victims.
This website uses cookies and Google Analytics to help us track user engagement and improve our site. If you'd like to know more information about what data we collect and why, please see
our data privacy policy
. If you continue to use this site, you consent to our use of cookies.