Computational Model Library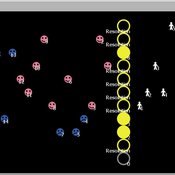 Smarzhevskiy Ivan
| Published Sun Feb 14 20:58:39 2016 | Last modified Tue Jul 30 06:37:58 2019
It is NetLogo reconstruction of the original FORTRAN code of the classical M. Cohen, J. March, and J. Olsen "garbage can model" (GCM or CMO) of collective decision-making.

Smarzhevskiy Ivan
| Published Tue Aug 19 16:33:42 2014 | Last modified Tue Jul 30 06:39:54 2019
Reconstruction of the original code M. Cohen, J. March, and J. Olsen garbage can model, realized by means of Microsoft Office Excel 2010
C Michael Barton
| Published Sat Nov 22 19:11:16 2008 | Last modified Sat Apr 27 20:18:43 2013
NetLogo model of patch choice model from optimal foraging theory (human behavioral ecology).
This website uses cookies and Google Analytics to help us track user engagement and improve our site. If you'd like to know more information about what data we collect and why, please see
our data privacy policy
. If you continue to use this site, you consent to our use of cookies.