Andrew J. Collins, Ph.D., is an assistant professor at Old Dominion University in the Department of Engineering Management and Systems Engineering. He has a Ph.D. in Operations Research from the University of Southampton, and his undergraduate degree in Mathematics was from the University of Oxford. He has published over 80 peer-review articles. He has been the Principal Investigator on projects funded to the amount of approximately $7 million. Dr. Collins has developed several research simulations including an award-winning investigation into the foreclosure contagion that incorporated social networks.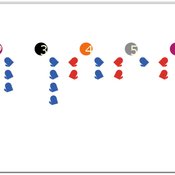 Andrew Collins
| Published Monday, November 23, 2020 | Last modified Wednesday, June 22, 2022
The purpose of the model is to collect information on human decision-making in the context of coalition formation games. The model uses a human-in-the-loop approach, and a single human is involved in each trial. All other agents are controlled by the ABMSCORE algorithm (Vernon-Bido and Collins 2020), which is an extension of the algorithm created by Collins and Frydenlund (2018). The glove game, a standard cooperative game, is used as the model scenario.
The intent of the game is to collection information on the human players behavior and how that compares to the computerized agents behavior. The final coalition structure of the game is compared to an ideal output (the core of the games).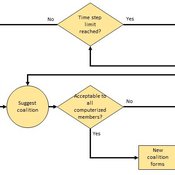 The purpose of the model is to generate coalition structures of different glove games, using a specially designed algorithm. The coalition structures can be are later analyzed by comparing them to core partitions of the game used. Core partitions are coalition structures where no subset of players has an incentive to form a new coalition.
The algorithm used in this model is an advancement of the algorithm found in Collins & Frydenlund (2018). It was used used to generate the results in Vernon-Bido & Collins (2021).