Computational Model Library
About the CoMSES Model Library more info
---
Our mission is to help computational modelers at all levels engage in the establishment and adoption of community standards and good practices for developing and sharing computational models. Model authors can freely publish their model source code in the Computational Model Library alongside narrative documentation, open science metadata, and other emerging open science norms that facilitate software citation, reproducibility, interoperability, and reuse. Model authors can also request peer review of their computational models to receive a DOI.
All users of models published in the library must cite model authors when they use and benefit from their code.
Please check out our model publishing tutorial and contact us if you have any questions or concerns about publishing your model(s) in the Computational Model Library.
We also maintain a curated database of over 7500 publications of agent-based and individual based models with additional detailed metadata on availability of code and bibliometric information on the landscape of ABM/IBM publications that we welcome you to explore.
Displaying 3 of 3 results united kingdom clear
Atiyah Elsheikh
| Published Friday, July 28, 2023 | Last modified Friday, November 24, 2023
This package implements a simplified non-calibrated agent-based demographic model of the UK. Individuals of an initial population are subject to ageing, deaths, births, divorces and marriages. The main purpose of the model is to explore and exploit capabilities of the state-of-the-art Agents.jl Julia package as well as other ecosystem of Julia packages like GlobalSensitivity.jl. Code includes examples for evaluating sensitivity analysis using OFAT, Morris and Sobol methods. Additionally, the model can serve as a base model to be adjusted to realistic large-scale socio-economics, pandemics or social interactions-based studies mainly within a demographic context. A specific case-study simulation is progressed with a user-defined simulation fixed step size on a hourly, daily, weekly, monthly basis or even an arbitrary user-defined clock rate.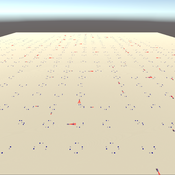 The Urban Traffic Simulator is an agent-based model developed in the Unity platform. The model allows the user to simulate several autonomous vehicles (AVs) and tune granular parameters such as vehicle downforce, adherence to speed limits, top speed in mph and mass. The model allows researchers to tune these parameters, run the simulator for a given period and export data from the model for analysis (an example is provided in Jupyter Notebook).
The data the model is currently able to output are the following:
…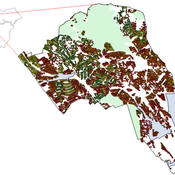 A model to show the effects of flood risk on a housing market; the role of flood protection for risk reduction; the working of the existing public-private flood insurance partnership in the UK, and the proposed scheme 'Flood Re'.
This website uses cookies and Google Analytics to help us track user engagement and improve our site. If you'd like to know more information about what data we collect and why, please see
our data privacy policy
. If you continue to use this site, you consent to our use of cookies.