Computational Model Library
About the CoMSES Model Library more info
---
CoMSES Net maintains cyberinfrastructure to foster FAIR data principles for access to and (re)use of computational models. Model authors can publish their model code in the Computational Model Library with documentation, metadata, and data dependencies and support these FAIR data principles as well as best practices for software citation. Model authors can also request that their model code be peer reviewed to receive a DOI. All users of models published in the library must cite model authors when they use and benefit from their code.
Please check out our model archive tutorial or contact us if you have any questions or concerns about archiving your model.
CoMSES Net also maintains a curated database of over 7500 publications of agent-based and individual based models with additional metadata on availability of code and bibliometric information on the landscape of ABM/IBM publications that we welcome you to explore.
Digital social networks facilitate the opinion dynamics and idea flow and also provide reliable data to understand these dynamics. Public opinion and cooperation behavior are the key factors to determine the capacity of a successful and effective public policy. In particular, during the crises, such as the Corona virus pandemic, it is necessary to understand the people's opinion toward a policy and the performance of the governance institutions. The problem of the mathematical explanation of the human behaviors is to simplify and bypass some of the essential process. To tackle this problem, we adopted a data-driven strategy to extract opinion and behavioral patterns from social media content to reflect the dynamics of society's average beliefs toward different topics. We extracted important subtopics from social media contents and analyze the sentiments of users at each subtopic. Subsequently, we structured a Bayesian belief network to demonstrate the macro patters of the beliefs, opinions, information and emotions which trigger the response toward a prospective policy. We aim to understand the factors and latent factors which influence the opinion formation in the society. Our goal is to enhance the reality of the simulations. To capture the dynamics of opinions at an artificial society we apply agent-based opinion dynamics modeling. We intended to investigate practical implementation scenarios of this framework for policy analysis during Corona Virus Pandemic Crisis. The implemented modular modeling approach could be used as a flexible data-driven policy making tools to investigate public opinion in social media. The core idea is to put the opinion dynamics in the wider contexts of the collective decision-making, data-driven policy-modeling and digital democracy. We intended to use data-driven agent-based modeling as a comprehensive analysis tools to understand the collective opinion dynamics and decision making process on the social networks and uses this knowledge to utilize network-enabled policy modeling and collective intelligence platforms.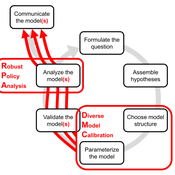 This repository contains: (1) a model calibration procedure that identifies a set of diverse, plausible models; and (2) an ABM of smallholder agriculture, which is used as a case study application for the calibration method. By identifying a set of diverse models, the calibration method attends to the issue of "equifinality" prevalent in complex systems, which is a situation where multiple plausible process descriptions exist for a single outcome.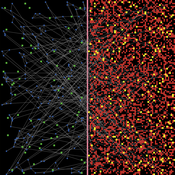 Anna Klabunde
| Published Wed Aug 7 09:12:48 2013 | Last modified Wed Feb 17 06:09:04 2016
An empirically validated agent-based model of circular migration
This website uses cookies and Google Analytics to help us track user engagement and improve our site. If you'd like to know more information about what data we collect and why, please see
our data privacy policy
. If you continue to use this site, you consent to our use of cookies.