Computational Model Library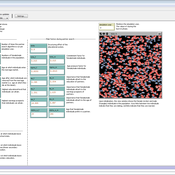 This model explores a social mechanism that links the reversal of the gender gap in education with changing patterns in relative divorce risks in 12 European countries.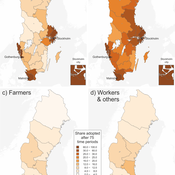 This agent-based model simulates the diffusion of a social change process stratified by social class in space and time which is solely driven social and spatial variation in communication links.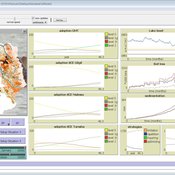 The CONSERVAT model evaluates the effect of social influence among farmers in the Lake Naivasha basin (Kenya) on the spatiotemporal diffusion pattern of soil conservation effort levels and the resulting reduction in lake sedimentation.
A computational model of a classic small group study by Alex Bavelas. This computational model was designed to explore the difficulty in translating a seemingly simple real-world experiment into a computational model.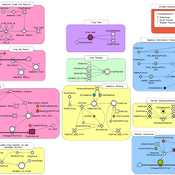 The objective of the model is to evaluate the impact of seasonal forecasts on a farmer's net agricultural income when their crop choices have different and variable costs and returns.
The model simulates agents in a spatial environment competing for a common resource that grows on patches. The resource is converted to energy, which is needed for performing actions and for surviving.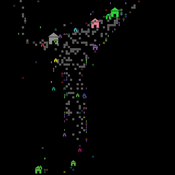 Marco Janssen
| Published Tue Sep 7 05:18:37 2010 | Last modified Sat Apr 27 20:18:23 2013
Replication of the well known Artificial Anasazi model that simulates the population dynamics between 800 and 1350 in the Long House Valley in Arizona.
A simplified Arthur & Polak logic circuit model of combinatory technology build-out via incremental development. Only some inventions trigger radical effects, suggesting they depend on whole interdependent systems rather than specific innovations.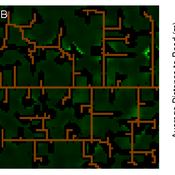 A logging agent builds roads based on the location of high-value hotspots, and cuts trees based on road access. A forest monitor sanctions the logger on observed infractions, reshaping the pattern of road development.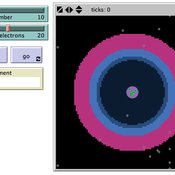 Due to teacher requests to represent changes in atomic radius, we developed a visualization of the first 36 elements in Netlogo
This website uses cookies and Google Analytics to help us track user engagement and improve our site. If you'd like to know more information about what data we collect and why, please see
our data privacy policy
. If you continue to use this site, you consent to our use of cookies.