Computational Model Library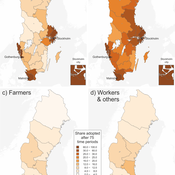 This agent-based model simulates the diffusion of a social change process stratified by social class in space and time which is solely driven social and spatial variation in communication links.
Nuno Fachada
| Published Sat Oct 31 15:29:02 2015 | Last modified Tue Jan 19 16:13:02 2016
A multithreaded replication of the PPHPC model in Java for testing different ABM parallelization strategies.

Romina Martin
| Published Thu Nov 24 11:22:42 2016 | Last modified Fri Jan 18 12:59:12 2019
LimnoSES is a coupled system dynamics, agent-based model to simulate social-ecological feedbacks in shallow lake use and management.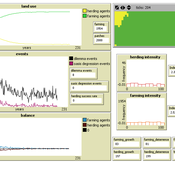 Andreas Angourakis
| Published Wed Feb 3 17:24:15 2016 | Last modified Fri Mar 11 19:17:46 2016
This Agent-Based model intends to explore the conditions for the emergence and change of land use patterns in Central Asian oases and similar contexts.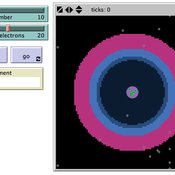 Due to teacher requests to represent changes in atomic radius, we developed a visualization of the first 36 elements in Netlogo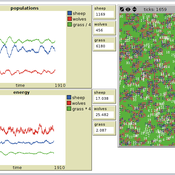 Nuno Fachada
| Published Sat Aug 8 16:27:27 2015 | Last modified Wed Nov 25 17:23:09 2015
PPHPC is a conceptual model for studying and evaluating implementation strategies for spatial agent-based models (SABMs). It is a realization of a predator-prey dynamic system, and captures important SABMs characteristics.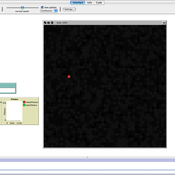 This is a conceptual model of underlying forces creating industrial clusters. There are two contradictory forces - attraction and repulsion. Firms within the same Industry are attracted to each other and on the other hand, firms with the same Activity are repulsed from each other. In each round firm with the lowest fitness is selected to change its profile of Industries and Activities. Based on these simple rules interesting patterns emerge.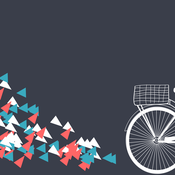 The purpose of the model is to generate disaggregated traffic flow distribution of cyclists at the regional scale level. The model is fuelled by statistical and topographical data as well as by generalized assumptions derived from survey data on mobility behaviour. It results in emergent flow patterns at a high spatial and temporal level of detail.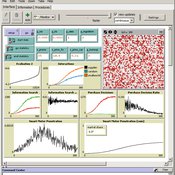 Martin Rixin
| Published Thu Aug 18 10:29:34 2011 | Last modified Sat Apr 27 20:18:17 2013
An Agent-based model simulates consumer demand for Smart Metering tariffs. It utilizes the Bass Diffusion Model and Rogers´s adopter categories. Integration of empirical census microdata enables a validated socio-economic background for each consumer.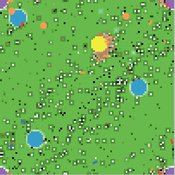 Kit Martin
| Published Thu Jan 15 16:19:41 2015 | Last modified Thu Aug 27 18:53:06 2015
Simulates impacts of ants killing colony mates when in conflict with another nest. The murder rate is adjustable, and the environmental change is variable. The colonies employ social learning so knowledge diffusion proceeds if interactions occur.
This website uses cookies and Google Analytics to help us track user engagement and improve our site. If you'd like to know more information about what data we collect and why, please see
our data privacy policy
. If you continue to use this site, you consent to our use of cookies.