Computational Model Library
How does the world population adapt its policies on energy when it is confronted with a climate change? This model combines a climate-economy model with adaptive agents.
This model is designed to investigate the impact of alternative policy approaches and changing land tenure dynamics on farmer adoption of conservation practices intended to increase the water quality.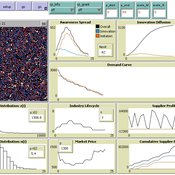 Martin Rixin
| Published Mon Aug 29 14:34:26 2011 | Last modified Sat Apr 27 20:18:17 2013
Objective is to simulate policy interventions in an integrated demand-supply model. The underlying demand function links both sides. Diffusion proceeds if interactions distribute awareness (Epidemic effect) and rivalry reduces the market price (Probit effect). Endogeneity is given due to the fact that consumer awareness as well as their willingness-to-pay drives supply-side rivalry. Firm´s entry and exit decisions as well as quantity and price settings are driven by Cournot competition.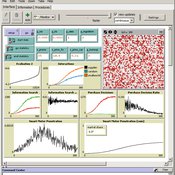 Martin Rixin
| Published Thu Aug 18 10:29:34 2011 | Last modified Sat Apr 27 20:18:17 2013
An Agent-based model simulates consumer demand for Smart Metering tariffs. It utilizes the Bass Diffusion Model and Rogers´s adopter categories. Integration of empirical census microdata enables a validated socio-economic background for each consumer.
Philip Truscott
| Published Mon Aug 15 06:10:15 2011 | Last modified Sat Apr 27 20:18:25 2013
Must tax-benefit policy making be limited to the 'experts'?
This website uses cookies and Google Analytics to help us track user engagement and improve our site. If you'd like to know more information about what data we collect and why, please see
our data privacy policy
. If you continue to use this site, you consent to our use of cookies.