Computational Model Library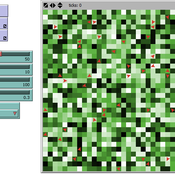 This is based off my previous Profiler tutorial model, but with an added tutorial on converting it into a model usable with BehaviorSpace, and creating a BehaviorSpace experiment.
This is a very simple foraging model used to illustrate the features of Netlogo's Profiler extension.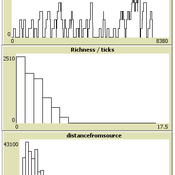 A simple model of random encounters of materials that produces distributions as found in the archaeological record.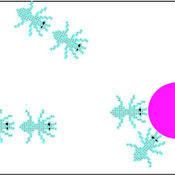 Ants in the genus Temnothorax use tandem runs (rather than pheromone trails) to recruit to food sources. This model explores the collective consequences of this linear recruitment (as opposed to highly nonlinear pheromone trails).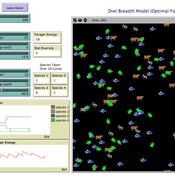 C Michael Barton
| Published Wed Nov 26 23:19:21 2008 | Last modified Thu Mar 12 20:04:31 2015
Diet breadth is a classic optimal foraging theory (OFT) model from human behavioral ecology (HBE). Different resources, ranked according to their food value and processing costs, are distributed in th
This website uses cookies and Google Analytics to help us track user engagement and improve our site. If you'd like to know more information about what data we collect and why, please see
our data privacy policy
. If you continue to use this site, you consent to our use of cookies.