Computational Model Library
About the CoMSES Model Library more info
---
Our mission is to help computational modelers at all levels engage in the establishment and adoption of community standards and good practices for developing and sharing computational models. Model authors can freely publish their model source code in the Computational Model Library alongside narrative documentation, open science metadata, and other emerging open science norms that facilitate software citation, reproducibility, interoperability, and reuse. Model authors can also request peer review of their computational models to receive a DOI.
All users of models published in the library must cite model authors when they use and benefit from their code.
Please check out our model publishing tutorial and contact us if you have any questions or concerns about publishing your model(s) in the Computational Model Library.
We also maintain a curated database of over 7500 publications of agent-based and individual based models with additional detailed metadata on availability of code and bibliometric information on the landscape of ABM/IBM publications that we welcome you to explore.
Displaying 2 of 2 results deforestation clear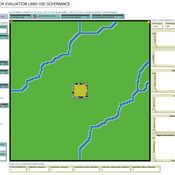 Marius von Essen
| Published Monday, January 10, 2022 | Last modified Tuesday, September 06, 2022
The agent-based simulation of land-use governance (ABSOLUG) is a NetLogo model designed to explore the interactions between stakeholders and the impact of multi-stakeholder governance approaches on tropical deforestation. The purpose of ABSOLUG is to advance our understanding of land use governance, identify macro-level patterns of interaction among governments, commodity producers, and NGOs in tropical deforestation frontiers, and to set a foundation for generating middle-range theories for multi-stakeholder governance approaches. The model represents a simplified, generic, tropical commodity production system, as opposed to a specific empirical case, and as such aims to generate interpretable macro-level patterns that are based on plausible, micro-level behavioral rules. It is designed for scientists interested in land use governance of tropical commodity production systems, and for decision- and policy-makers seeking to develop or enhance governance schemes in multi-stakeholder commodity systems.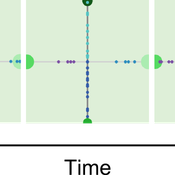 James Millington
| Published Friday, December 21, 2012 | Last modified Saturday, April 27, 2013
This model illustrates a positive 'transport' feedback loop in which lines with different resistance to flows of material result in variation in rates of change in linked entities.
This website uses cookies and Google Analytics to help us track user engagement and improve our site. If you'd like to know more information about what data we collect and why, please see
our data privacy policy
. If you continue to use this site, you consent to our use of cookies.