Computational Model Library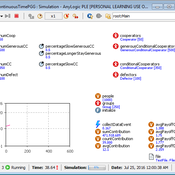 Tuong Vu
| Published Thu May 17 10:39:29 2018 | Last modified Tue Apr 2 09:28:13 2019
To our knowledge, this is the first agent-based simulation of continuous-time PGGs (where participants can change contributions at any time) which are much harder to realise within both laboratory and simulation environments.
Work related to this simulation has been published in the following journal article:
Vu, Tuong Manh, Wagner, Christian and Siebers, Peer-Olaf (2019) 'ABOOMS: Overcoming the Hurdles of Continuous-Time Public Goods Games with a Simulation-Based Approach' Journal of Artificial Societies and Social Simulation 22 (2) 7 http://jasss.soc.surrey.ac.uk/22/2/7.html. doi: 10.18564/jasss.3995
Abstract:
…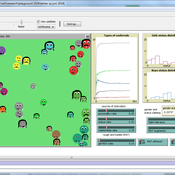 Status-power dynamics on a playground, resulting in a status landscape with a gender status gap. Causal: individual (beauty, kindness, power), binary (rough-and-tumble; has-been-nice) or prior popularity (status). Cultural: acceptability of fighting.
This website uses cookies and Google Analytics to help us track user engagement and improve our site. If you'd like to know more information about what data we collect and why, please see
our data privacy policy
. If you continue to use this site, you consent to our use of cookies.