Computational Model Library
The model reflects the predator-prey mustelid-vole population dynamics, typically observed in boreal systems. The goal of the model is to assess which intrinsic and extrinsic factors (or factor combinations) are needed for the generation of the cyclic pattern typically observed in natural vole populations. This goal is achieved by contrasting the alternative model versions by "switching off" some of the submodels in order to reflect the four combinations of the factors hypothesized to be driving vole cycles.
Individually parameterized mussels (Mytilus californianus) recruit, grow, move and die in a 3D environment while facing predation (in the form of seastar agents), heat and desiccation with increased tide height, and storms. Parameterized with data collected by Wootton, Paine, Kandur, Donahue, Robles and others. See my 2019 CoMSES video presentation to learn more.
Nuno Fachada
| Published Sat Oct 31 15:29:02 2015 | Last modified Tue Jan 19 16:13:02 2016
A multithreaded replication of the PPHPC model in Java for testing different ABM parallelization strategies.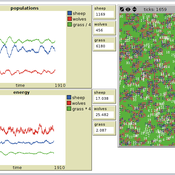 Nuno Fachada
| Published Sat Aug 8 16:27:27 2015 | Last modified Wed Nov 25 17:23:09 2015
PPHPC is a conceptual model for studying and evaluating implementation strategies for spatial agent-based models (SABMs). It is a realization of a predator-prey dynamic system, and captures important SABMs characteristics.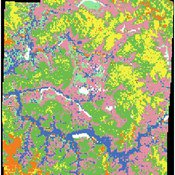 Agent-based model of hunting behavior of Ache hunter-gatherers from Paraguay. We evaluate the effect of group size and cooperative hunting
Jacopo Baggio
| Published Thu Nov 10 19:35:38 2011 | Last modified Sat Apr 27 20:18:37 2013
A simple model to assess the effect of connectivity on interacting species (i.e. predator-prey type)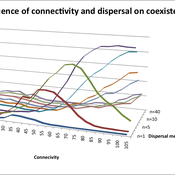 Kehinde Salau
| Published Mon Aug 29 08:01:17 2011 | Last modified Sat Apr 27 20:18:53 2013
An agent-based model of species interaction on fragmented landscape is developed to address the question, how do population levels of predators and prey react with respect to changes in the patch connectivity as well as changes in the sharpness of threshold dispersal?
This website uses cookies and Google Analytics to help us track user engagement and improve our site. If you'd like to know more information about what data we collect and why, please see
our data privacy policy
. If you continue to use this site, you consent to our use of cookies.