Computational Model Library
Computational Model Library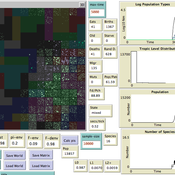 Bruce Edmonds
| Published Sun May 4 13:22:47 2014 | Last modified Wed May 15 14:18:58 2019
This is a multi-patch meta-population ecological model. It intended as a test-bed in which to test the impact of humans with different kinds of social structure.
Jacopo Baggio
| Published Thu Nov 10 19:35:38 2011 | Last modified Sat Apr 27 20:18:37 2013
A simple model to assess the effect of connectivity on interacting species (i.e. predator-prey type)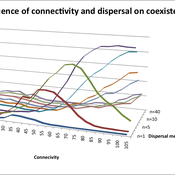 Kehinde Salau
| Published Mon Aug 29 08:01:17 2011 | Last modified Sat Apr 27 20:18:53 2013
An agent-based model of species interaction on fragmented landscape is developed to address the question, how do population levels of predators and prey react with respect to changes in the patch connectivity as well as changes in the sharpness of threshold dispersal?
This website uses cookies and Google Analytics to help us track user engagement and improve our site. If you'd like to know more information about what data we collect and why, please see
our data privacy policy
. If you continue to use this site, you consent to our use of cookies.