Computational Model Library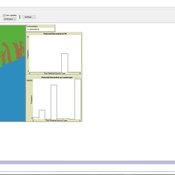 This model is an application of Brantingham's neutral model to a real landscape with real locations of potential sources. The sources are represented as their sizes during current conditions, and from marine geophysics surveys, and the agent starts at a random location in Mossel Bay Region (MBR) surrounding the Archaeological Pinnacle Point (PP) locality, Western Cape, South Africa. The agent moves at random on the landscape, picks up and discards raw materials based only upon space in toolkit and probability of discard. If the agent happens to encounter the PP locality while moving at random the agent may discard raw materials at it based on the discard probability.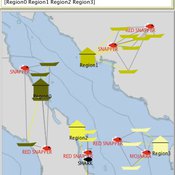 Emilie Lindkvist
| Published Wed Sep 27 21:31:19 2017 | Last modified Fri Oct 6 12:14:05 2017
The Mobility Model is a model of a small-scale fishery with the purpose to study the movement of fishers between different sub-regions within a larger region, as they move between different regions to fish.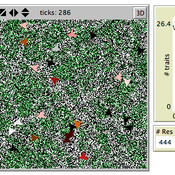 This spatially explicit agent-based model addresses how effective foraging radius (r_e) affects the effective size–and thus the equilibrium cultural diversity–of a structured population composed of central-place foraging groups.
This model simulates movements of mobile pastoralists and their impacts on the transmission of foot-and-mouth disease (FMD) in the Far North Region of Cameroon.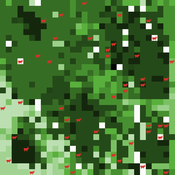 The purpose of the model is to examine whether and how mobile pastoralists are able to achieve an Ideal Free Distribution (IFD).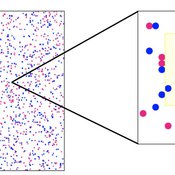 A general model of human mate choice in which agents are localized in space, interact with close neighbors, and tend to range either near or far. At the individual level, our model uses two oft-used but incompletely understood decision rules: one based on preferences for similar partners, the other for maximally attractive partners.
L S Premo
| Published Thu Jan 10 06:21:14 2013 | Last modified Sat Apr 27 20:18:32 2013
This is a relatively simple foraging-radius model, as described first by Robert Kelly, that allows one to quantify the effect of increased logistical mobility (as represented by increased effective foraging radius, r_e) on the likelihood that 2 randomly placed central place foragers will encounter one another within 5000 time steps.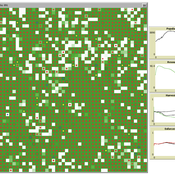 Irene Perez Ibarra
| Published Mon Sep 24 16:41:20 2012 | Last modified Sat Apr 27 20:18:39 2013
The model is a stylized representation of a social-ecological system of agents moving and harvesting a renewable resource. The purpose is to analyze how mobility affects sustainability. Experiments changing agents' mobility, landscape and information governments have can be run.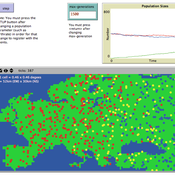 C Michael Barton
| Published Sat Oct 1 00:20:15 2011 | Last modified Fri Mar 28 05:07:40 2014
Biobehavioral interactions between two populations under different movement strategies.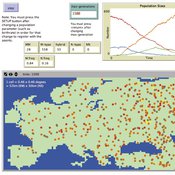 C Michael Barton
| Published Mon Sep 19 19:55:00 2011 | Last modified Fri Mar 28 05:17:32 2014
Simulates biobehavioral interactions between 2 populations of hominins.
This website uses cookies and Google Analytics to help us track user engagement and improve our site. If you'd like to know more information about what data we collect and why, please see
our data privacy policy
. If you continue to use this site, you consent to our use of cookies.