Computational Model Library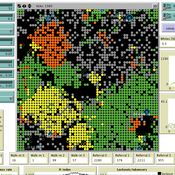 The Labour Markets and Ethnic Segmentation (LaMESt) Model is a model of a simplified labour market, where only jobs of the lowest skill level are considered. Immigrants of two different ethnicities ("Latino", "Asian") compete with a majority ("White") and minority ("Black") native population for these jobs. The model's purpose is to investigate the effect of ethnically homogeneous social networks on the emergence of ethnic segmentation in such a labour market. It is inspired by Waldinger & Lichter's study of immigration and the social organisation of labour in 1990's Los Angeles.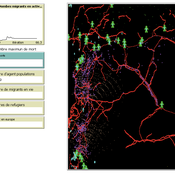 RefugeePathSIM is an agent-based model to simulate the movement behavior of refugees in order to identify pathways of forced migration under crisis. The model generates migrants and lets them leave conflict areas for a destination that they choose based on their characteristics and desires. RefugeePathSIM has been developed and applied in a study of the Syrian war, using monthly data in years 2011-2015.
The model attempts to explore the trade-offs between immigration policies and successfully identifying human trafficking victims.
This website uses cookies and Google Analytics to help us track user engagement and improve our site. If you'd like to know more information about what data we collect and why, please see
our data privacy policy
. If you continue to use this site, you consent to our use of cookies.