Computational Model Library
Spatial explicit model of a rangeland system, based on Australian conditions, where grass, woody shrubs and fire compete fore resources. Overgrazing can cause the system to flip from a healthy state to an unproductive shrub state. With the model one can explore the consequences of different movement rules of the livestock on the resilience of the system.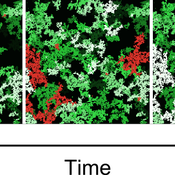 James Millington
| Published Fri Dec 21 12:26:52 2012 | Last modified Sat Apr 27 20:18:32 2013
This model is a replication of that described by Peterson (2002) and illustrates the 'spread' feedback loop type described in Millington (2013).
This website uses cookies and Google Analytics to help us track user engagement and improve our site. If you'd like to know more information about what data we collect and why, please see
our data privacy policy
. If you continue to use this site, you consent to our use of cookies.