Dr. Gravel-Miguel currently works as a Postdoctoral Research Scholar for the Institute of Human Origins at Arizona State University. She does research in Archaeology and focuses on the Upper Paleolithic of Southwest Europe. She currently works on projects ranging from cultural transmission to human-environment interactions in prehistory.
Research Interests
Archaeology, GIS, ABM, social networks, portable art, ornaments, data science
The model presented here was created as part of my dissertation. It aims to study the impacts of topography and climate change on prehistoric networks, with a focus on the Magdalenian, which is dated to between 20 and 14,000 years ago.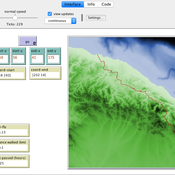 This model aims to mimic human movement on a realistic topographical surface. The agent does not have a perfect knowledge of the whole surface, but rather evaluates the best path locally, at each step, thus mimicking imperfect human behavior.
This is the replication of the experiment performed by Eerkens and Lipo (2005) to look at the effect of copying errors when specific traits are transferred from an individual to another.