Computational Model Library
Computational Model Library
Diego Valbuena
| Published Sat Mar 12 12:58:20 2011 | Last modified Sat Apr 27 20:18:23 2013
This is an empirical model described in http://dx.doi.org/10.1016/j.landurbplan.2010.05.001. The objective of the model is to simulate how the decision-making of farmers/agents with different strategies can affect the landscape structure in a region in the Netherlands.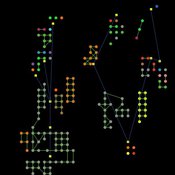 Marco Janssen
| Published Mon Jun 16 22:33:16 2008 | Last modified Tue Dec 16 05:18:53 2014
This is a NetLogo replication of the hill-climbing version of the Lansing-Kremer model of Balinese irrigation.
This website uses cookies and Google Analytics to help us track user engagement and improve our site. If you'd like to know more information about what data we collect and why, please see
our data privacy policy
. If you continue to use this site, you consent to our use of cookies.