Computational Model Library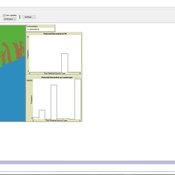 This model is an application of Brantingham's neutral model to a real landscape with real locations of potential sources. The sources are represented as their sizes during current conditions, and from marine geophysics surveys, and the agent starts at a random location in Mossel Bay Region (MBR) surrounding the Archaeological Pinnacle Point (PP) locality, Western Cape, South Africa. The agent moves at random on the landscape, picks up and discards raw materials based only upon space in toolkit and probability of discard. If the agent happens to encounter the PP locality while moving at random the agent may discard raw materials at it based on the discard probability.
Tony Lawson
| Published Thu Oct 6 13:52:24 2011 | Last modified Sat Apr 27 20:18:34 2013
How do households alter their spending patterns when they experience changes in income? This model answers this question using a random assignment scheme where spending patterns are copied from a household in the new income bracket.
This website uses cookies and Google Analytics to help us track user engagement and improve our site. If you'd like to know more information about what data we collect and why, please see
our data privacy policy
. If you continue to use this site, you consent to our use of cookies.