Yiyu Wang is a PhD student in Center for Spatial Analysis and Policy (CSAP), at University of Leeds. Currently her research interests are the forward-looking simulation model of pedestrian evacuating behaviors under emergency incorporating Bayesian game theory within multi-agent systems, and their interactions with other social factors.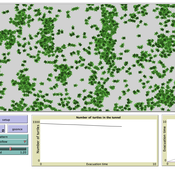 The purpose of this model is to introduce a new individual decision-making method, BNE, into the ABM of pedestrian evacuation to properly simulate individual behaviours and movements. The model was built to balance between fast evacuation and high comfortability, which is a general conflict in the domain of pedestrian research. The interactions of pedestrians with their neighbours as well as surroundings was also considered in order to simulate a more realistic pedestrian evacuation. This model ultimately aims to explore the influences of BNE on pedestrian flows from various perspectives, especially pedestrian comfort and exit time in an emergency evacuation with different parameter configurations.
Three behavioural models were evaluated: Shortest Route (SR), Random Follow (RF) and BNE. The behavioural models were used to generate four moving patterns (i.e. model configurations): SR, RF, BNE mixed with SR, and BNE mixed with RF.