Computational Model Library
About the CoMSES Model Library more info
---
Our mission is to help computational modelers at all levels engage in the establishment and adoption of community standards and good practices for developing and sharing computational models. Model authors can freely publish their model source code in the Computational Model Library alongside narrative documentation, open science metadata, and other emerging open science norms that facilitate software citation, reproducibility, interoperability, and reuse. Model authors can also request peer review of their computational models to receive a DOI.
All users of models published in the library must cite model authors when they use and benefit from their code.
Please check out our model publishing tutorial and contact us if you have any questions or concerns about publishing your model(s) in the Computational Model Library.
We also maintain a curated database of over 7500 publications of agent-based and individual based models with additional detailed metadata on availability of code and bibliometric information on the landscape of ABM/IBM publications that we welcome you to explore.
Displaying 2 of 2 results agent-based computational modelling in social sciences clear
The model explores the informational causes of polarization and bi-polarization of opinions in groups. To this end it expands the model of the Argument Communication Theory of Bi-polarization. The latter is an argument-based multi-agent model of opinion dynamics inspired by Persuasive Argument Theory. The original model can account for polarization as an outcome of pure informational influence, and reproduces bi-polarization effects by postulating an additional mechanism of homophilous selection of communication partners. The expanded model adds two dimensions: argument strength and more sophisticated protocols of informational influence (argument communication and opinion update).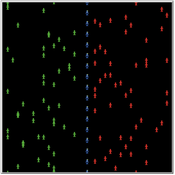 More frequently protests are accompanied by an opposing group performing a counter protest. This phenomenon can increase tension such that police must try to keep the two groups separated. However, what is the best strategy for police? This paper uses a simple agent-based model to determine the best strategy for keeping the two groups separated. The 'thin blue line' varies in density (number of police), width and the keenness of police to approach protesters. Three different groups of protesters are modelled to mimic peaceful, average and volatile protests. In most cases, a few police forming a single-file 'thin blue line' separating the groups is very effective. However, when the protests are more volatile, it is more effective to have many police occupying a wide 'thin blue line', and police being keen to approach protesters. To the authors knowledge, this is the first paper to model protests and counter-protests.
This website uses cookies and Google Analytics to help us track user engagement and improve our site. If you'd like to know more information about what data we collect and why, please see
our data privacy policy
. If you continue to use this site, you consent to our use of cookies.