Computational Model Library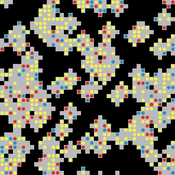 This model explores different aspects of the formation of urban neighbourhoods where residents believe in values distant from those dominant in society. Or, at least, this is what the Danish government beliefs when they discuss their politics about parallel societies. This simulation is set to understand (a) whether these alternative values areas form and what determines their formation, (b) if they are linked to low or no income residents, and (c) what happens if they disappear from the map. All these three points are part of the Danish government policy. This agent-based model is set to understand the boundaries and effects of this policy.
Fredrik Jansson
| Published Thu Jul 14 17:42:03 2016 | Last modified Mon Apr 9 09:21:34 2018
This model uses preference rankings w.r.t. ethnic group compositions (e.g. at companies) and assigns ethnic agents to groups based on their rankings.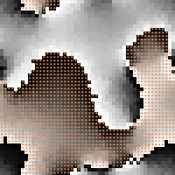 This is a tool to explore the effects of groups´ spatial segregation on the emergence of opinion polarization. It embeds two opinion formation models: a model of negative (and positive) social influence and a model of persuasive argument exchange.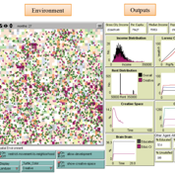 An agent-based model which explores Creativity and Urban Development
Andreas Koch
| Published Wed Oct 28 16:31:27 2009 | Last modified Sat Apr 27 20:18:45 2013
This model is a more comprehensive version of the original model; descriptions and expanations are added
Andreas Koch
| Published Fri Sep 25 06:37:44 2009 | Last modified Sat Apr 27 20:18:48 2013
This is a first preliminary simulation model to model segregation in the city of Salzburg, Austria.
D Poza
| Published Thu Sep 24 09:40:17 2009 | Last modified Sat Apr 27 20:18:43 2013
The Classes Model with one agent type
This website uses cookies and Google Analytics to help us track user engagement and improve our site. If you'd like to know more information about what data we collect and why, please see
our data privacy policy
. If you continue to use this site, you consent to our use of cookies.