Computational Model Library
About the CoMSES Model Library more info
---
Our mission is to help computational modelers at all levels engage in the establishment and adoption of community standards and good practices for developing and sharing computational models. Model authors can freely publish their model source code in the Computational Model Library alongside narrative documentation, open science metadata, and other emerging open science norms that facilitate software citation, reproducibility, interoperability, and reuse. Model authors can also request peer review of their computational models to receive a DOI.
All users of models published in the library must cite model authors when they use and benefit from their code.
Please check out our model publishing tutorial and contact us if you have any questions or concerns about publishing your model(s) in the Computational Model Library.
We also maintain a curated database of over 7500 publications of agent-based and individual based models with additional detailed metadata on availability of code and bibliometric information on the landscape of ABM/IBM publications that we welcome you to explore.
Displaying 3 of 3 results population size effects clear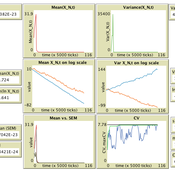 This version of the accumulated copying error (ACE) model is designed to address the following research question: how does finite population size (N) affect the coefficient of variation (CV) of a continuous cultural trait under the assumptions that the only source of copying error is visual perception error and that the continuous trait can take any positive value (i.e., it has no upper bound)? The model allows one to address this question while assuming the continuous trait is transmitted via vertical transmission, unbiased transmission, prestige biased transmission, mean conformist transmission, or median conformist transmission. By varying the parameter, p, one can also investigate the effect of population size under a mix of vertical and non-vertical transmission, whereby on average (1-p)N individuals learn via vertical transmission and pN individuals learn via either unbiased transmission, prestige biased transmission, mean conformist transmission, or median conformist transmission.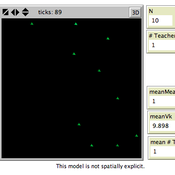 This model illustrates how the effective population size and the rate of change in mean skill level of a cultural trait are affected by the presence of natural selection and/or the cultural transmission mechanism by which it is passed.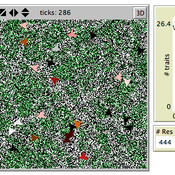 This spatially explicit agent-based model addresses how effective foraging radius (r_e) affects the effective size–and thus the equilibrium cultural diversity–of a structured population composed of central-place foraging groups.
This website uses cookies and Google Analytics to help us track user engagement and improve our site. If you'd like to know more information about what data we collect and why, please see
our data privacy policy
. If you continue to use this site, you consent to our use of cookies.